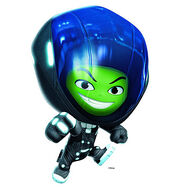 TRON

Film

TRON

Level Unlocked

None

Price

0 Gold

Star in

TRON is a character from the film TRON. In the game, he is part of the Green T-Shirt Costumes. He also is already unlocked and purchase at the start of the game.
TRON fights with identity discs mounted on sticks. The number of rings varies, as well as the color, which goes from black and white in the first three levels to blue for the fully upgraded weapon.
Ad blocker interference detected!
Wikia is a free-to-use site that makes money from advertising. We have a modified experience for viewers using ad blockers

Wikia is not accessible if you've made further modifications. Remove the custom ad blocker rule(s) and the page will load as expected.