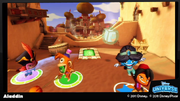 Streets of Agrabah

World

Level Number

2
Streets of Agrabah is the second level of the Aladdin World.
In the first part, you need to use the merchants and the acrobats to get to the teleport to the next part.
In the second part of the level, you have to use the merchants to get to the water and then you have to douse the hot ash on the floor so you can get to the teleport.
In the final part, you have to get to the water soyou can get ruid of the hot ash by the Agrabah Gates. Once you have, you can rescue the trapped guest.
Ad blocker interference detected!
Wikia is a free-to-use site that makes money from advertising. We have a modified experience for viewers using ad blockers

Wikia is not accessible if you've made further modifications. Remove the custom ad blocker rule(s) and the page will load as expected.