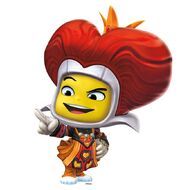 Red Queen is the main villain from Tim Burton's Alice in Wonderland. She is unlocked once you have played London a second time.
In The Game
Edit
The Red Queen also features in Part 3 of Over the Castle Wall and Part 2 of Inside the Red Castle. She can be seen getting angry whenever the player either adds a card to the deck or a card piece to the floor.
She is one of two character villains that are in a costume, the other being Jafar.