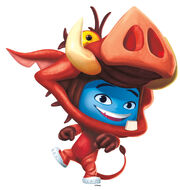 Pumbaa

Film

The Lion King (1994)

Level Unlocked

None

Price

0 Gold
Pumbaa is a character from The Lion King Triology. At the start of the game, he is the only character from The Lion King Pack that has already been unlocked and purchased and you can suit up as.
Pumbaa's weapons ressemble various kinds of insects. He is first seen holding a red insect, then an orange one, then a worm on a stick and finally another red insect.