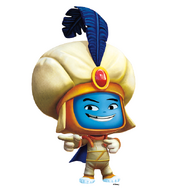 Prince Ali

Film

Aladdin

Level Unlocked

None

Price in Game

0 Gold

Price to Download

£0.79 on own or £3.17 with 7 Costume Pack
Prince Ali is an alias that Aladdin goes under during the film Aladdin. In the game, he is part of the Yellow T-Shirt Costumes and can be downloaded with the 7 Costume Pack.
This was the first and only costume that is based on a disguise that a character goes under and that character is also a Costume.
Prince Ali is the only costume based on a character from Aladdin that has to be downloaded, the others don't.
Prince Ali is just Aladdin's costume. He should be replaced with Genie.