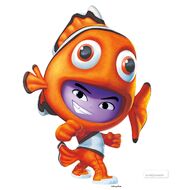 Nemo

Film

Finding Nemo

Level Unlocked

Price

500 Gold

Star in
Nemo is one of the main characters from Pixar's Finding Nemo. He is part of the Red T-Shirt Costumes and can be unloked after the first complation of Elephant Graveyard. In the second game he is part of the Finding Nemo Pack. He is already unlocked at the start of the second game.
Ad blocker interference detected!
Wikia is a free-to-use site that makes money from advertising. We have a modified experience for viewers using ad blockers

Wikia is not accessible if you've made further modifications. Remove the custom ad blocker rule(s) and the page will load as expected.