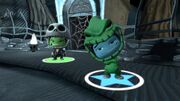 Graveyard

World

Level Number

1
Graveyard is the first and only level in The Nightmare Before Christmas World. It can only be played after the purchase of the world on Xbox and Playstation versions of the game.
The first part consists of the player navigating the first part of the graveyard and opening the gates by lighting pumpkins.
In Part 2, the player has to do the same except uses Christmas trees to open the gate.
In the final part, you must get to the end of the graveyard where the player has got to shoot down the advancing monster Bots.
Ad blocker interference detected!
Wikia is a free-to-use site that makes money from advertising. We have a modified experience for viewers using ad blockers

Wikia is not accessible if you've made further modifications. Remove the custom ad blocker rule(s) and the page will load as expected.