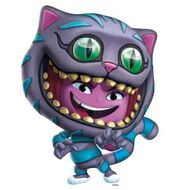 Cheshire Cat

Film

Alice in Wonderland

Level Unlocked

None

Price

0 Gold
The Cheshire Cat is a character from Tim Burton's Alice in Wonderland. In the game, he is the first Costume from the Alice in Wonderland Pack to be unlocked as it is unlocked at the start of the game and already purchased.
The Cheshire Cat uses mostly mushrooms to strike enemies. He begins with a brown mushroom and changes to a blue mushroom upon upgrade. After a subsequent upgrade, he fights with a fiddlehead fern. Finally, when fully upgraded, he uses a red mushroom with white spots.
Ad blocker interference detected!
Wikia is a free-to-use site that makes money from advertising. We have a modified experience for viewers using ad blockers

Wikia is not accessible if you've made further modifications. Remove the custom ad blocker rule(s) and the page will load as expected.