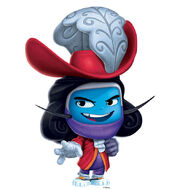 Captain Hook

Film

Peter Pan

Level Unlocked

None

Price in Game

0 Gold

Price to Download

£0.79 on own or £3.17 with 7 Costume Pack

Captain Hook is the main villain from the film Peter Pan. In the game, he is part of the Yellow T-Shirt Costumes and can be downloaded with the 7 Costume Pack.
Friends:
Mr. Smee
Pirate Crew (in Peter Pan)
Peter Pan
Wendy
John
Michael
Slightly
Tinkerbell (all in Disney Universe)
Enemies:
Peter Pan
Slightly
John
Michael
Wendy
Tinker Bell (all in Peter Pan)
Crocodile
Pirate Crew (in Disney Universe)
Weapons:
Level 1: Clock
Level 2: Sword
Level 3: Tick Tock the Crocodile
Level 4: His Hook
Despite being Downloaded, Peter Pan and Captain Hook aren't downloaded with the Peter Pan World.
Captain Hook should have replaced Michael has a DLC Code.
Ad blocker interference detected!
Wikia is a free-to-use site that makes money from advertising. We have a modified experience for viewers using ad blockers

Wikia is not accessible if you've made further modifications. Remove the custom ad blocker rule(s) and the page will load as expected.