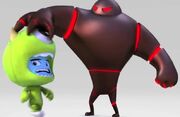 Brutes

Levels Featured

All

Intentions

Bad

Type

Bots
Brutes are enemies and the first mini-bosses of the game.
In the Game
Edit
In the game, Brutes are summoned to attack the guests. Brutes are introduced in the second London level. They mainly try to either jump on the guest or to pick up the guest to destroy them. If you press the use button when they are about to jump, they will get stuck in the ground. This is a good time to attack them.
The Brute wears different types of costumes in the Worlds:
Ad blocker interference detected!
Wikia is a free-to-use site that makes money from advertising. We have a modified experience for viewers using ad blockers

Wikia is not accessible if you've made further modifications. Remove the custom ad blocker rule(s) and the page will load as expected.