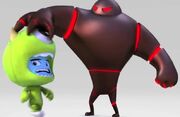 Bots

Levels Featured

All

Intentions

Bad
Bots are the main enemies in the games. They come in different versions but they all try to defeat the player. In the second game, all but one bot turned bad.
In the Game
Edit
In the game, the Bots seem to have minds of their own. As well as attacking the player, the Bots are able to move objects needed by the player to proceed in the game. They can also construct obstacles for the player to have to defeat like cannons, spikes and walls. They also appear in different clothing depending on the World you are playing in (See individual pages for costumes). In the second game, the good bot's name is Robot McCool.
There are many different types of Bots:
wizard
standar fodder
giant rhynoceros
Ad blocker interference detected!
Wikia is a free-to-use site that makes money from advertising. We have a modified experience for viewers using ad blockers

Wikia is not accessible if you've made further modifications. Remove the custom ad blocker rule(s) and the page will load as expected.