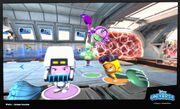 Axiom Belowdecks

World

Level Number

2
Axiom Belowdecks is the second level in the WALL-E World.
In the first part, players must huide the robots to the door indicated so you can power the walkway so that you can walk on it.
In this part, players must get past all of the lazers and security checks before getting to grips with making things out of rubbish.
In the final part, players must stop the furnace by putting blocks into a lorrey which you have to get to come first. When the furnace has stopped, you can then go in and get the Guest.
Ad blocker interference detected!
Wikia is a free-to-use site that makes money from advertising. We have a modified experience for viewers using ad blockers

Wikia is not accessible if you've made further modifications. Remove the custom ad blocker rule(s) and the page will load as expected.